Location: Meriden YMCA
Cost: $25 in advance. Day of tryouts an additional $20.
Register: Registration form is on our website. Details about paying the tryout fee will be emailed after your form is completed.
Age: Age for USA Volleyball is determined by the athlete's age on June 30, 2022. You can play an older division, but not a younger one. Please contact us if interested in attending multiple age divisions
Information Meetings on Zoom:  November 18 at 7 pm.  Please register at the link and you will receive a meeting invitation when approved!
8U – 12U and 14U Boys|  Nov. 14, 2:00-4:00 (change)
13U | Nov. 14, 10:00-12:00 & Nov. 16, 6:00-7:30 (change)
14U  | Nov. 14, 12:00-2:00 & Nov. 16, 7:30-9:00 (change)
15U  |  Nov. 21 4:30-7:30

16U – 17U  | Nov. 21: 1:00-4:00 & Nov. 23: 6:00-8:30 (change)

The Club Season lasts from December through May. If a team decides to attend a national end of year tournament, additional fees will be required. Tuition includes uniforms, sweats, backpack, practice t-shirts, coaching (including travel and accommodations for some tournaments), YMCA fee, and club equipment. Travel teams' fees include applicable multi-day tournament registration fees. With COVID, we were not comfortable including accommodations at out-of-town tournaments. However, we can revisit that issue when time to book rooms is closer. Team members must stay in the club hotel at events requiring an overnight stay.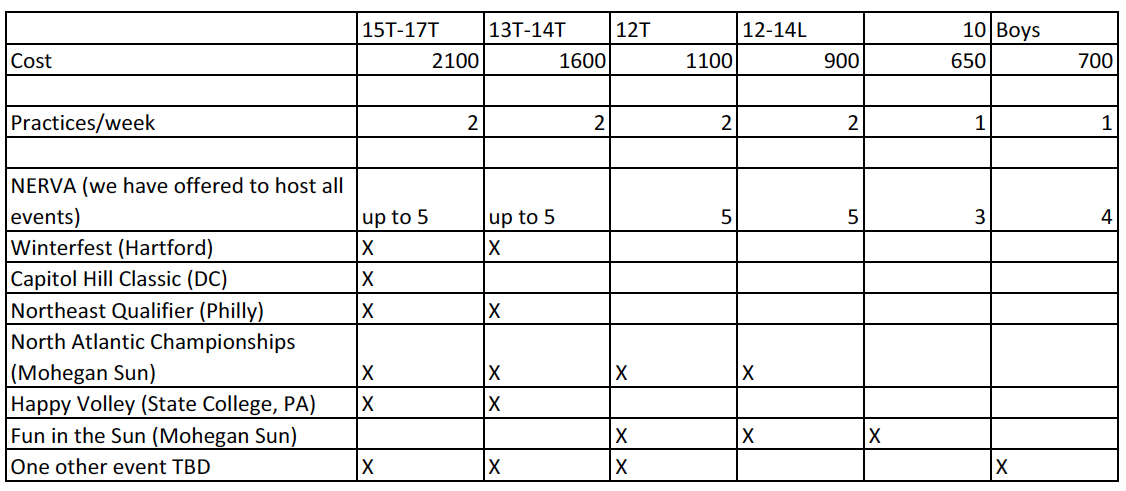 We believe safety is the priority, and we will adjust to the changes that are served at us.