Location: Meriden YMCA
Register: Please fill out tryout information form on our website. 
Cost: $50.  Please call the Meriden YMCA to pay before tryouts.
Age: Age for USA Volleyball is determined by the athlete's age on June 30, 2023. You can play an older division, but not a younger one. Please contact us if interested in attending multiple age divisions
Information Meeting on Zoom:  November 2 at 7:00 pm.  Register Here 
8U – 12U|  Nov. 6, 2:00-4:00
13U | Nov. 6, 2:00-4:00 & Nov. 13, 2:30-4:00 
14U  | Nov. 6, 4:30-7:00 & Nov. 9, 7:00-9:00 
15U  |  Nov. 13, 4:15-6:15 & Nov. 14, 6:00-8:30

16U |  Nov. 13, 6:30-8:30 & Nov. 16, 6:00-8:30 (Nov 18, 20 & 21 if needed)
17U  | Nov. 13, 6:30-8:30 & Nov. 16, 6:00-8:30 (Nov 18, 20 & 21 if needed)

*Per CIAC rules, HS Students may not participate in club activities during the HS season.  Please check with your athletic director for additional guidance.  We will accommodate athletes with state tournament conflicts.
The Club Season lasts from December through May. If a team decides to attend a national end of year tournament, additional fees will be required. Tuition includes uniforms, sweats, backpack, practice t-shirts, tournament entry fees, coaching (including coach travel and accommodations for some tournaments), YMCA fee, and club equipment. Team members must all stay in the club hotel at events requiring an overnight stay.  USA Volleyball and AAU memberships are additional.
Upon being offered a position on a team, you must accept within 72 hours and pay a $400 deposit with the YMCA to cover uniform costs.  You can arrange for a payment plan for the rest of your fees.  If the deposit is a hardship, please contact New England Shock.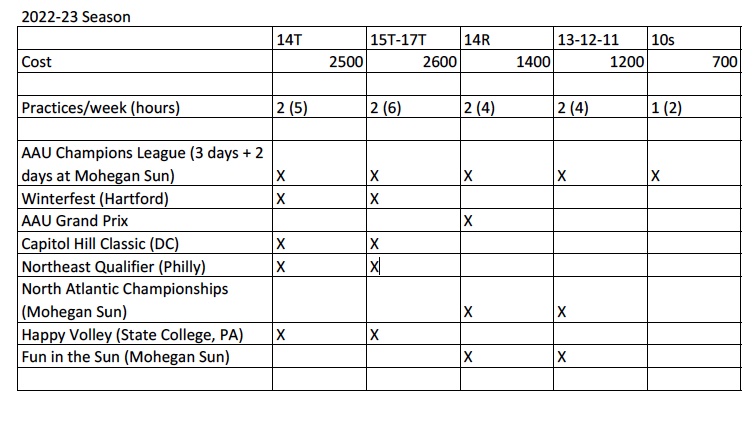 We believe safety is the priority, and we will adjust to the changes that are served at us.